Augmented reality maintenance by means of smart glasses is one of the topics that is gaining particular importance in the course of Industry 4.0. According to Statista, sales of 3.9 million augmented reality smart glasses among leading brands worldwide are forecast for 2024.
That's no surprise: Mixed reality smart glasses like Microsoft HoloLens 2 or assisted reality smart glasses like Vuzix M400 or RealWear HMT-1 visualize helpful information and enable interaction with an expert. In addition, both hands remain free so that instructions for troubleshooting can be implemented immediately.
The HMT-1 smart glasses by RealWear were developed specifically for the industrial sector and quickly established themselves as a popular communication medium between technicians on site and external experts. In the following article, we have summarized the areas of application for which RealWear HMT-1 is suitable, the features it includes and the advantages it offers.
RealWear HMT-1 review – Appearance and areas of application
As the abbreviation in the name already reveals, RealWear HMT-1 is a head-mounted tablet and thus a full-fledged tablet. The smart glasses have a camera on the side of the head and a display under the eye. Important information is thus displayed directly in the user's field of vision. 
Realwear HMT-1 is certified with protection class IP66, dust-tight, shockproof and waterjet-proof – in other words, ideally suited for industrial working environments. Main application areas of the smart glasses are therefore
Fabrication and production
Oil and gas industry
Automobile industry
Construction
Logistics
Telemedicine
HMT-1 is most often relied upon when expert assistance is needed for service calls, maintenance, inspections or repairs. The industrial smart glasses are also used to follow step-by-step instructions, to look up information in product catalogs, or to document or retrieve machine data. RealWear HMT-1 can be used for a wide range of applications, making the smart glasses an essential tool for day-to-day service processes.  
RealWear HMT-1 in test ­
RealWear HMT-1 is one of our reference models, as it convinces with its qualities and features in everyday work. Let's take a closer look at the smart glasses. 
Wearing comfort
Designed for longer indoor and outdoor use, RealWear HMT-1 is characterized by high wearing comfort. With a weight of 380 grams, it is almost 200 grams lighter than Microsoft HoloLens 2, for example.
The smart glasses are easy to put on and sit stably on the head, even during jerkier head movements (especially when using the Tri-Band head strap or in combination with a cap or safety helmet). The adjustable HMT-1 Workband, which is put on like a headband, is particularly comfortable. The weight is thus distributed even more evenly and does not weigh on the top of the head.    
Display and resolution
RealWear HMT-1 is equipped with a micro display located below the line of sight. The boom arm has three joints that allow individual adjustment of angle and distance to the eye. It rotates completely to position the display in front of the eye of choice and can be easily folded away when not in use.
The screen resolution of the 24 bit LCD display with 20 degree field of view and 1 meter fixed focus is 854p x 480p; thus, it is equivalent to a 7 inch tablet. Both the display and camera can be adjusted independently as needed, so both the wearer and the expert can see exactly what they need to troubleshoot.  
Camera
The camera of RealWear HMT-1 is located above the boom arm and can be tilted up or down by 30 degrees. Thanks to a resolution of 16 megapixels, high-quality photos can be taken, which make it much easier for the expert to perform a fault analysis. For comparison: The iPhone 12 smartphone has a 12 megapixel camera.
The Full HD camera (1080p) can also record videos with 30 frames per second. The integrated flashlight, which is controlled via voice command, provides better visibility in poorly lit work environments.    
Control
Not only the flashlight is operated by voice – RealWear HMT-1 itself is. That means no gestures like scrolling, swiping or tapping have to be performed. This makes it possible to work with both hands throughout, without having to forego supporting information. A list of voice commands can be found in the user manual of RealWear HMT-1.
The voice control of RealWear HMT-1 is considered to be one of the best among currently available smart glasses and works flawlessly even in noisy environments. The reason for this is four microphones, two of which are integrated into the display. The primary microphone is located on the underside, near the mouth. The reference microphone, which is responsible for noise suppression, is on the display's upper side.
RealWear HMT-1 supports a total of 15 languages: English, French, German, Italian, Dutch, Polish, Portuguese, Russian, Spanish, Chinese, Indonesian, Japanese, Korean, Mandarin and Thai.  
Storage
The smart glasses for industry have a 32 GB internal memory and 3 GB RAM. A FAT32 formatted microSD card with a maximum storage capacity of 256 gigabytes can be added via the microSD card slot.  
Battery life
The battery compartment of RealWear HMT-1 is located at the rear end of the smart glasses, on the opposite side of the boom arm. A 3250 mAh Li-Ion rechargeable battery is included. It is hot-swappable, meaning it can be replaced while the device is running without having to restart HMT-1 or opened applications.
According to the manufacturer, the battery life is approximately 8 hours with low-energy use. In practical use, HMT-1 can be actively used for about 5 hours, making it one of the most powerful smart glasses for industry.  
Operating system
RealWear HMT-1 runs on an Android 10 (AOSP) + WearHF™ Hands-Free Interface operating system. Android provides a good basis for various software solutions and allows the manual installation of desired applications.  
Accessories
Various accessories are available for HMT-1 to make everyday work even easier. These include, among others:
Head straps and pads
Hard hats, clips and caps
Cases
Earphones
Battery and charging options
LTE/4G Modem
The scope of delivery of RealWear HMT-1 includes, in addition to the smart glasses, as standard:
1x USB C 3.0 cable
1x USB C to USB micro adapter
1x removable battery
1x Workband
1x rear head pad
Advantages of RealWear HMT-1
Most of the assets of RealWear HMT-1 have already been mentioned, but it is worth taking a closer look at the advantages of the smart glasses.
For example, the unrivaled robustness of the hardware, which significantly sets it apart from the competition. HMT-1 is not only dust-tight and impervious to drops from a height of two meters onto concrete, it is also fully functional in extreme temperatures ranging from -20 °C to 50 °C.
The biggest advantage of RealWear HMT-1 is its advanced voice control. The versatile selection of languages alone sets the smart glasses apart from other models. Added to this is the intuitive handling and active noise suppression: precise voice control is possible even in the presence of background noise of up to 95 dB, for example typical industrial noise. The advantages of RealWear HMT-1 at a glance:
Robust hardware, ideal for industrial environments, especially outdoor use
Excellent voice control
Wide range of languages
Flawless noise suppresion of up to 95 dB
High photo and video quality
High wearing comfort
Individually adjustable camera and display angle
Long battery life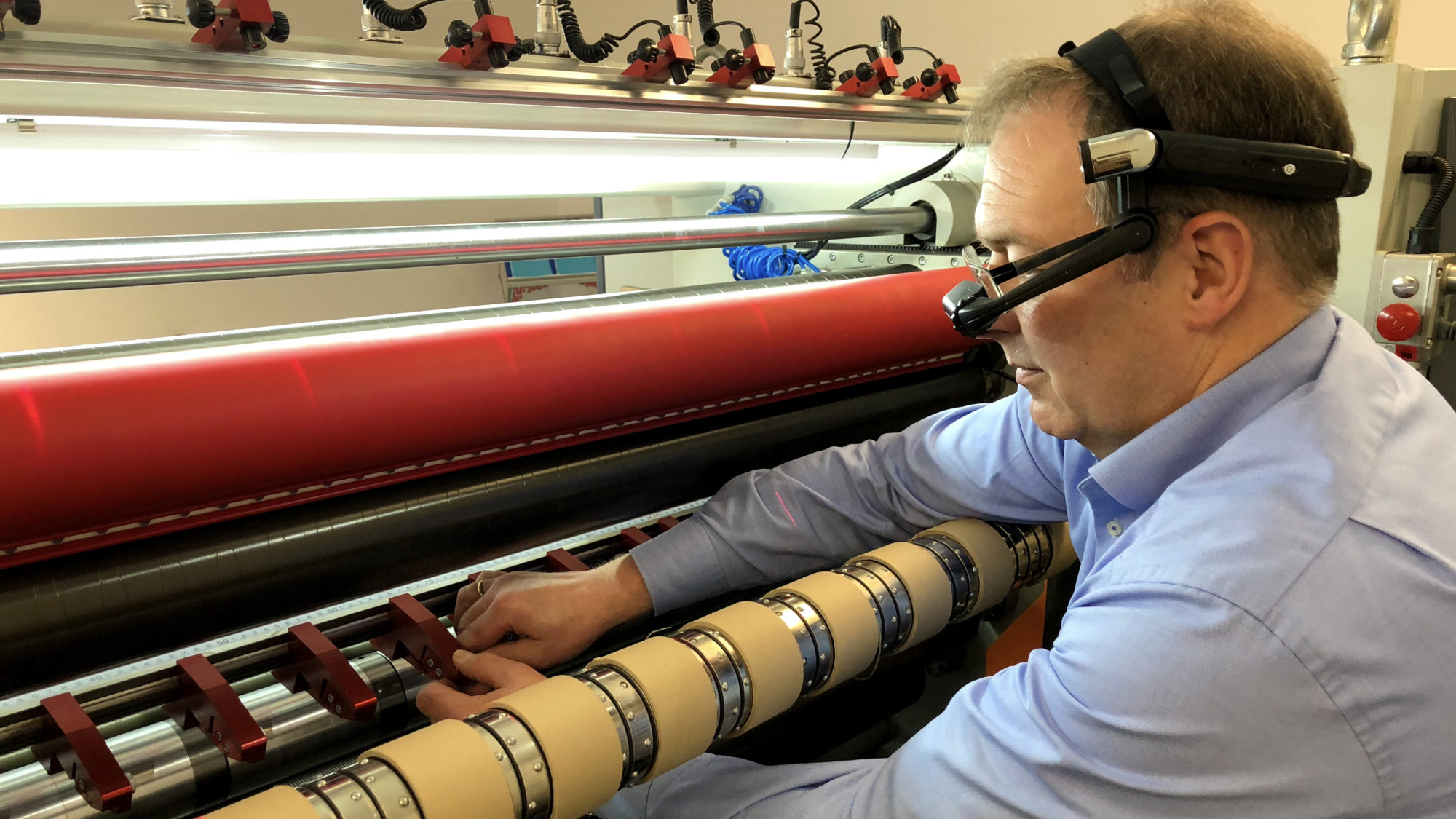 Technical data of RealWear HMT-1
| | |
| --- | --- |
| Display | 20° field of view, 1 meter fixed focus, 24 bit color LCD, 0,33 inch diagonal, also outdoor good readability WVGA 854 x 480 px (appears as 7 inch) |
| Audio | 4 microphones with active noise suppression up to 95 dB, max. volume 91 dB |
| Video | Up to 1080p @30fps. Codecs: VP8, VP9 and hardware encoding support for H.264, H.265 HEVC |
| Control | Voice control only, 15 languages available |
| Camera | 16 MP 4-axis optical image stabilisation, PDAF with LED light |
| Protection | IP 66, MIL-STD-810G, 2 m drop test, dust-tight, waterjet-proof |
| Battery | 5 hours, 3250 mAh Li-Ion, exchangeable (hot-swappable) |
| Connectivity | WLAN, Bluetooth |
| Operating system | Android 10 (AOSP) + WearHF™ Hands-Free Interface |
| Processor | 2.0 GHz 8-core Qualcomm® Snapdragon™ 626 |
| Memory | 32 GB internal memory / 3 GB RAM / microSD slot (max. 256 GB) |
| Included applications | Document Navigator, camera with barcode reader, video recorder, media player |
| Ports | 3.5 mm audio, 1 USB Type C |
| Weight | 380 g |
| Price | On request |
Remote Service – new era with smart glasses like RealWear HMT-1
Remote support via augmented reality and smart glasses – what was dreams of the future a few years ago will soon become common practice. After all, it offers the opportunity to shorten downtimes, avoid high travel costs and improve the CO2 balance. Added to this is the advantage of being able to work with both hands without having to keep an additional technical device on hand for communication or to retrieve required information. RealWear HMT-1 makes it possible – especially in combination with the right applications or software.
This includes our smart service solution bitnamic CONNECT. It offers a package of useful features to efficiently meet daily challenges in maintenance and service. The core element of bitnamic CONNECT is Remote Maintenance: The software, specially developed for industry, connects service technicians on site with experts worldwide in an interactive video conference. Problems with machines, systems, etc. can thus be solved together, saving time and money.
Would you like to learn more about bitnamic CONNECT, ideally in use with RealWear HMT-1? We will be happy to present both to you, live and without obligation. Simply arrange a demo appointment with our Sales Manager Christopher Siemer. We will also gladly introduce you to the successor of the HMT-1.
If you would like to learn more about the new smart glasses from RealWear in advance, please read our RealWear Navigator 500 Review or our comparison of RealWear Navigator 500 and Navigator 520.