Augmented reality maintenance
bitnamic CONNECT
smart glasses guide
Augmented reality is the next stage of digital maintenance processes. Our smart glasses guide explains how augmented reality can be used in industry and presents proven models.
Expand reality
What is augmented reality?
Augmented reality, or AR for short, describes a process in which reality or an actually "material scene" is expanded by virtual elements. Augmented reality is not the same as virtual reality, since there is no immersion in a completely virtual world. With AR, the real sensory stimulation remains present – a crucial aspect in the context of maintenance and service.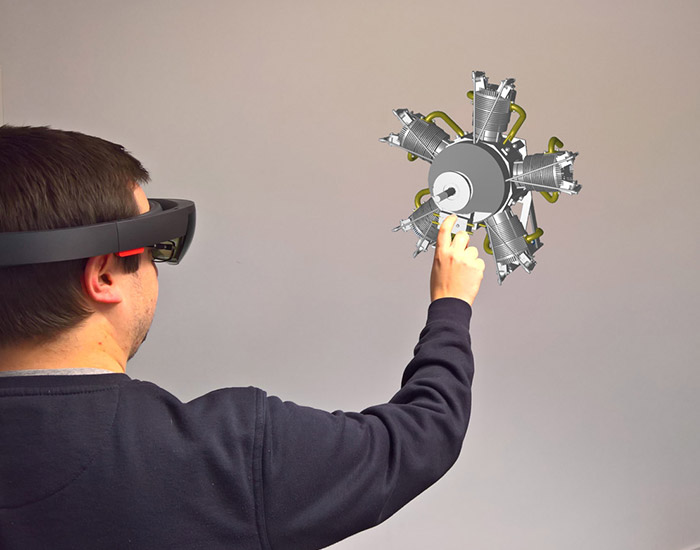 Flexibility
Both hands free for working on complex machines
Augmented reality can be used via different hardware. In the industry sector, smart glasses are particularly recommended. Smart glasses display context-relevant information in the user's field of vision. The view of a smartphone or tablet is therefore no longer necessary and the hands remain free.
In general one can distinguish between two technologies: AR light and 100% AR. With the help of our smart glasses guide, you will find the right smart glasses for your individual service and maintenance needs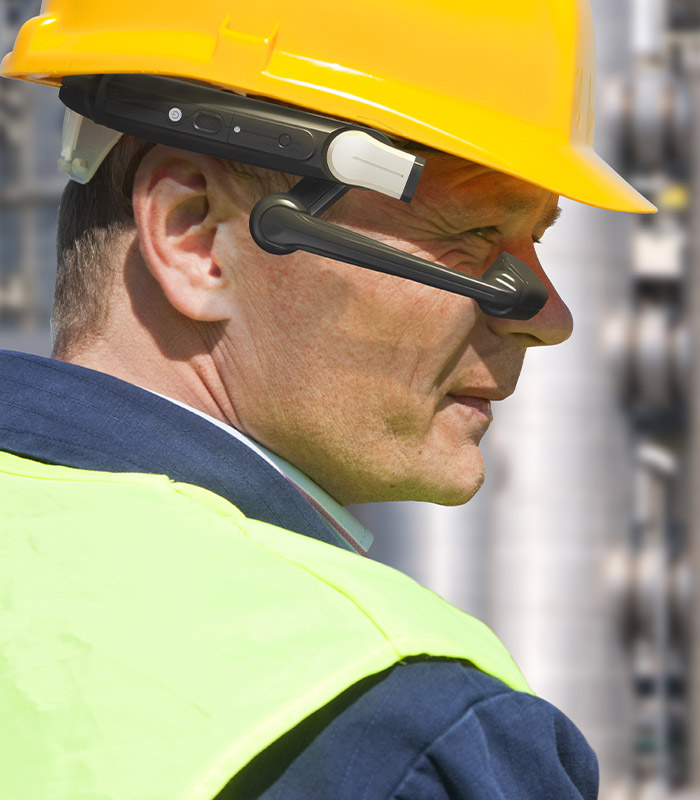 Smart glasses
Smart glasses as an ideal introduction to augmented reality
Android-based smart glasses like the models RealWear HMT-1 or VUZIX M400 can be placed between standard platforms and AR. One can speak of AR light here, as there is no direct overlapping of reality. The smart glasses have a 2D assistance screen located in the peripheral field of vision. This screen can be used to send information to the external expert using our
Remote Maintenance solution
. In parallel, videos, application windows, documents, etc. can be received by the expert via screen sharing. The integrated microphone enables additional oral communication.
Smart glasses promote efficient problem solving: Since the camera is located in the immediate vicinity of the eye, the expert can more quickly see which component the service technician is focusing on and give appropriate instructions. Triggered functions such as annotations or laser pointers, which characterize our remote maintenance software, are transferred directly to the screen of the smart glasses.
HoloLens
The Microsoft HoloLens offers the full augmented reality program
"100%" augmented reality can be achieved with the Microsoft HoloLens. The Head-Mounted Display (HMD) offers extensive possibilities and functions, for example spatial detection by sensors, spatially appropriate visualization or the exact superimposition of real objects.
Integrate and place any 3D objects and benefit from significantly more placement options due to the representation of virtual elements in the entire real space – in contrast to the limitations of classic 2D displays. Due to the positioning in the complete field of view including spatial anchoring, the virtual objects always remain in their original physical location, even if you as the carrier change your position.
With the Microsoft HoloLens you merge reality with virtual content and facilitate all workflows in maintenance processes thanks to the spatially matching overlays.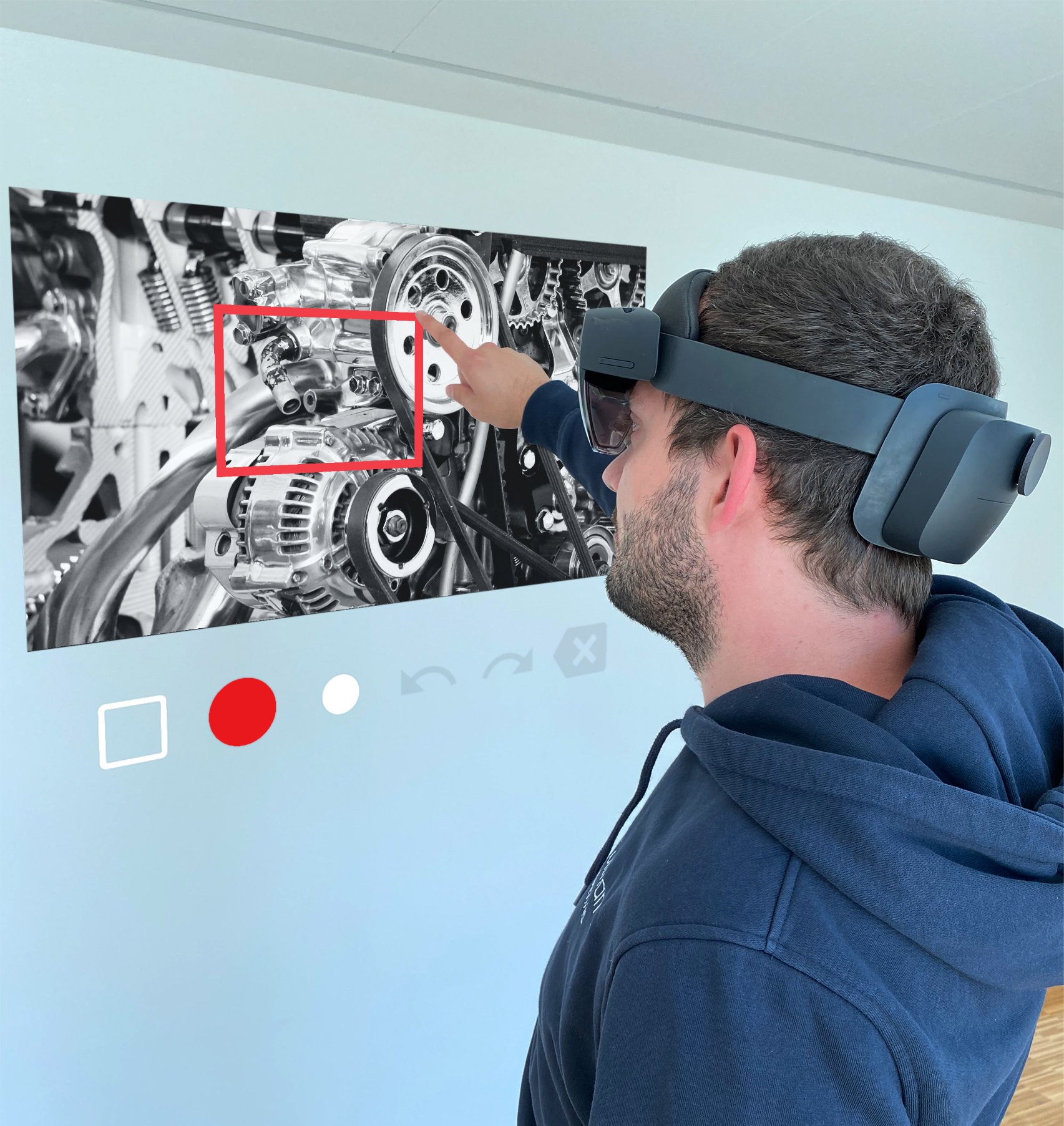 Recommended smart glasses
The following reference models are officially supported by bitnamic CONNECT: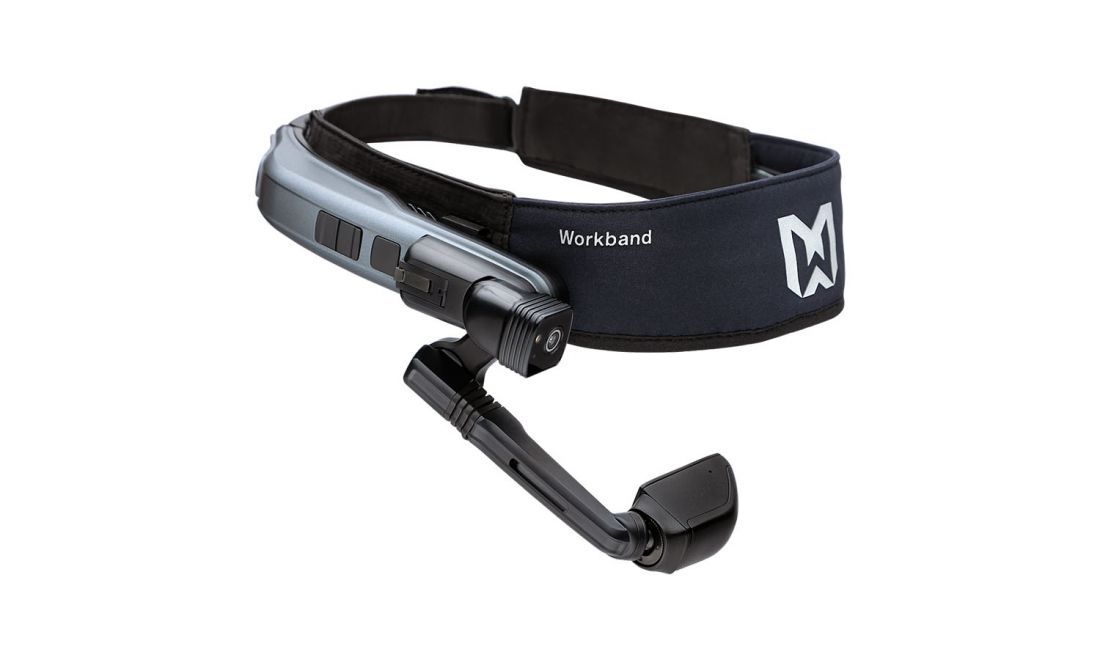 RealWear Navigator 500
Android 11 platform
854 x 480 Pixel MicroDisplay
48 MP camera
Pure voice control (can also be used offline, available in 17 languages)
IP66 MIL-STD 810 H certified
6-8 hours battery life, hot-swappable
Additional Micro SD card slot for sufficient storage space
Compatible with safety equipment
Noise cancellation up to 100 dBA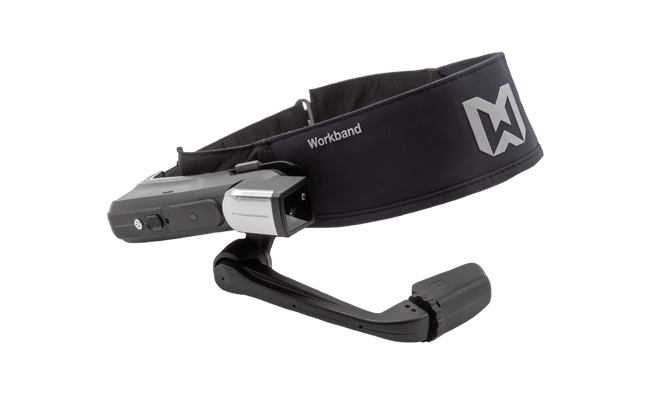 RealWear HMT-1
Android 10 platform
854 x 480 Pixel MicroDisplay
16 MP camera
Pure voice control (can also be used offline, available in 15 languages)
IP66 MIL-STD 810 G certified
5 hours battery life
Additional Micro SD card slot for sufficient storage space
Compatible with safety equipment
VUZIX M400
Android 9 platform
OLED screen > 10.000:1 contrast ratio
12.8 MP camera, 4K video
Phase Detect Autofocus (PDAF), optical stabilization
Language control (personalizable, supports multiple languages)
3 control buttons and a 2-axis touchpad with multi-finger support
IP67-certified
Safety against falling up to 2 meters
Hot-swap capable 2-12 hours battery life (depending on the choice of external battery)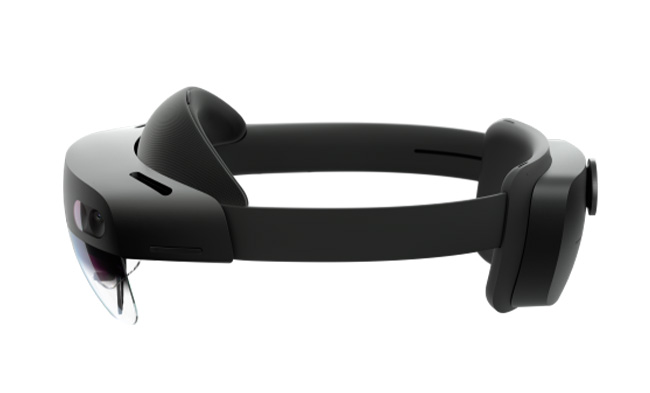 Microsoft HoloLens 2
Windows Holographic Operating System
Transparent holographic lenses (waveguide)
2k 3:2 Light generator resolution
4 cameras for visible light, 2 IR cameras
8 MP camera, 1080p30 Video
Real-time tracking (eye tracking)
Voice control (commands and control on the device, natural language with Internet connection)
Environmental integration in real time
2-3 hours battery life (active use)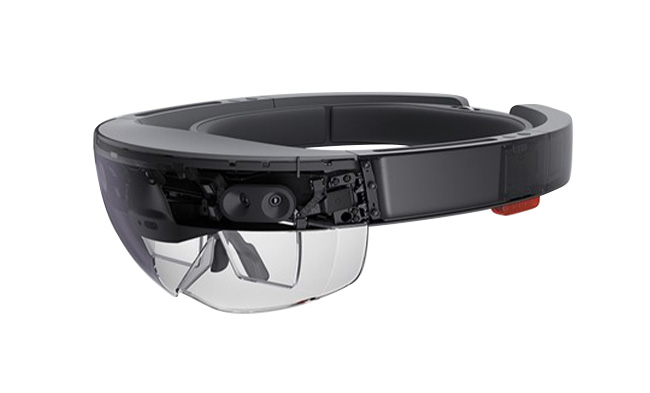 Microsoft HoloLens 1
Windows Holographic Operating System
Transparent holographic lenses (waveguide)
4 cameras, 1 depth camera
12 MP camera, HD video
Real-time tracking (eye tracking)
Voice control
2-3 hours battery life (active use)

You use other smart glasses?
On request, we will check the compatibility or a possible porting to smart glasses from your stock.
Example scenarios
Augmented reality in use
How can augmented reality be used in practice? The following two scenarios have already been successfully tested and show how workflows can be simplified.
Ultrasonic measurement in aviation
This aviation example shows how ultrasonic measurements are supported by AR.
Challenge:
A component from aircraft construction is to be examined for material defects. An ultrasonic measuring device is used for so-called non-destructive material testing: This method makes it possible to perform the material testing without causing damage to the component.
Usually the technician has to look at the screen of the device to which the measuring device is connected (e.g. to a laptop). This necessity is eliminated with the use of the Microsoft HoloLens, thus ensuring more efficient work.
How augmented reality helps:
The application is a step-by-step guide for the user, which leads him through the complete testing process. Textual explanations and images are displayed to show the user, for example, which action is required in the current step or how this action should be performed.
During the course of the scenario, possible defect areas are indicated by animated markings, which are then to be inspected by the user with the ultrasonic measuring device. After a measurement process, the result is displayed directly above the inspected area on the component. This makes testing much faster and minimizes errors.
The operation can be carried out completely without the use of hands. This scenario has already been subjected to a large number of user tests and showed a consistently positive result.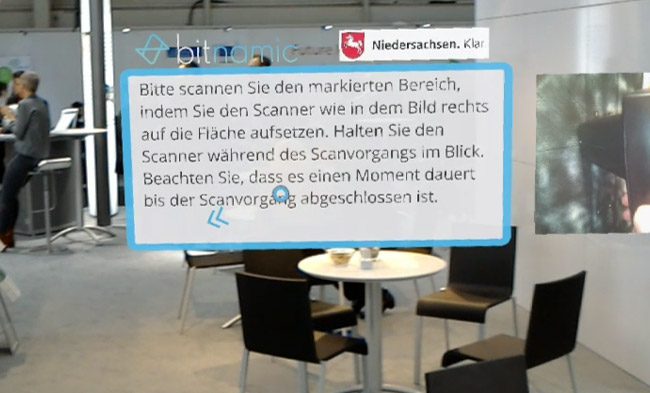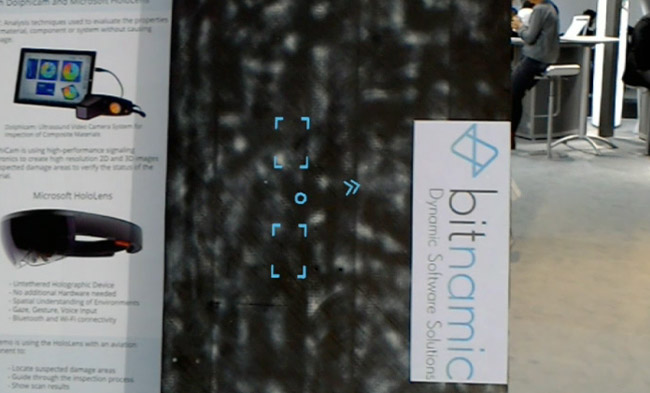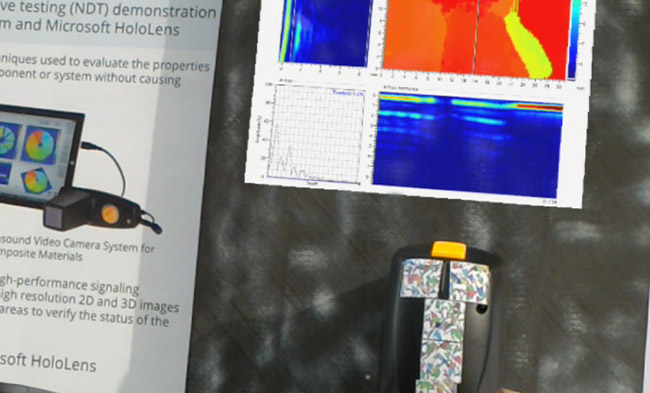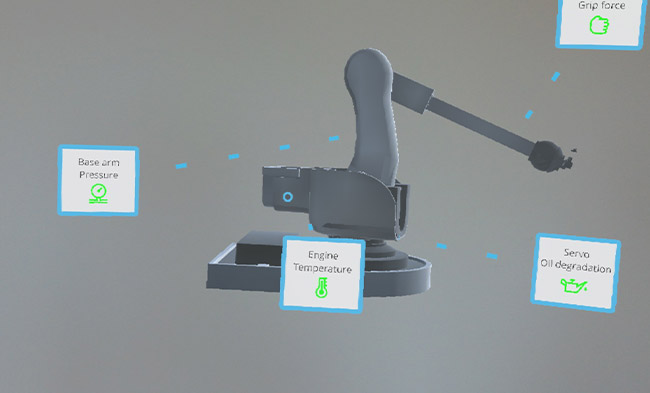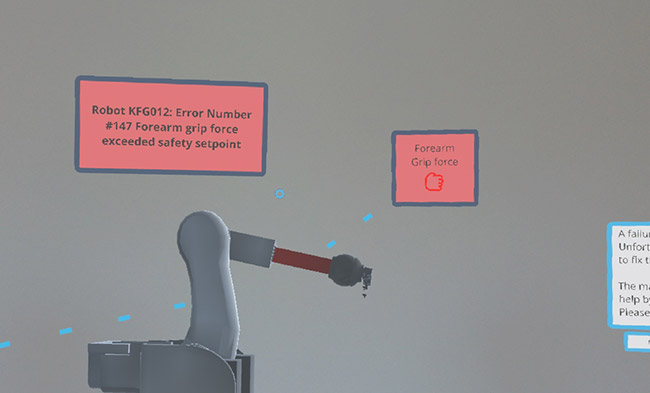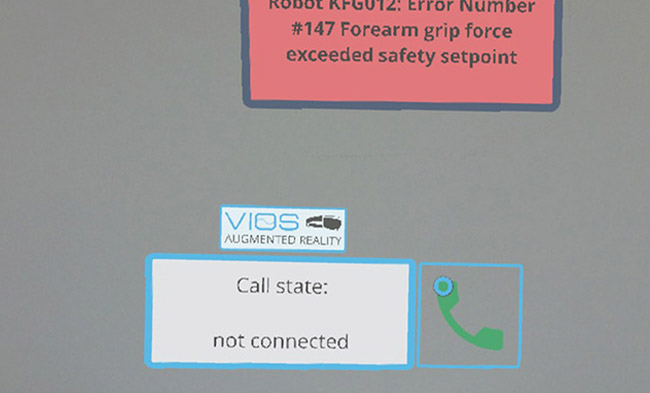 The scenario described in the following shows a possible integration of existing machine data in combination with the advantages of our remote maintenance solution.
An industrial robot is visualized three-dimensionally in space (provided by Salt and Pepper). The industrial robot is part of a production plant and equipped with various sensors. Existing sensor values of the industrial robot are transmitted by the Beat Monitoring System (BMS) to our servers and visualized live on display elements on the model.
The data is synchronised with our servers. If an error occurs on the industrial robot within the production plant, the HoloLens user is informed of this. Depending on the affected component of the robot, it is highlighted in colour and the corresponding error text appears.
Since fault clearance is only possible with the support of an expert, the user can then set up a Remote Maintenance session and transfer his own camera image to the external expert. Due to the complete integration, the external expert sees the video image, the sensor data and the error message of the faulty component. With the help of the expert, the error can be corrected and the industrial robot can be returned to a fault-free state.
The networking of machine data and the infrastructure of our solution enables fast and efficient assistance with fault clearance tasks. For this application example, the virtual representation of a machine was chosen. In real use, a direct visualization of the sensor data on the actually existing machine would take place instead (see ultrasonic scenario above).
Facilitate daily service processes
Augmented reality maintenance
Maintenance processes can be significantly simplified with the help of augmented reality. A distinction can be made between two variants: "Augmented Reality light" using smart glasses such as the RealWear HMT-1 or VUZIX M400, which ensure the technician's hands are free and simplify the flow of information; and "real" Augmented Reality with the Microsoft Hololens, which can display additional information in the technician's entire field of vision.
bitnamic CONNECT supports both use cases and has already proven itself in various application scenarios.
Augmented reality maintenance in your company
We advise you exclusively on augmented reality
and suitable smart glasses models
Request now
Information material about bitnamic CONNECT