Do your technicians and customers also use certain instant messengers that do not have security clearance?
Instant Messenger for Industry
White phone handset on a green background – on almost every smartphone you will find the symbol of the most used instant messenger in the world. It is also widely used in the industry because of its practical functions and ease of use. However, this is not permitted for security reasons.
Our Instant Messenger for Industry finds a remedy: It combines the conveniences of well-known instant messaging services with solid data protection.
The GDPR-compliant Instant Messenger for Industry
The solution
The main function of our instant messenger is to ensure an
even faster exchange between service technicians and experts
. By transferring messages and media, it is in many cases possible to
solve problems even before the actual video call
.
bitnamic CONNECT not only offers you familiar and intuitive features of common instant messengers. Our service is optimized for the special requirements in your industrial environment. You can send or receive messages asynchronously and manage notifications.
In addition to individual chats, group chats can also be opened – this is particularly useful for maintenance cases that require the support of several people. Are you currently only available on a limited basis or not at all? Simply set a corresponding status under your profile.
In contrast to conventional instant messengers, bitnamic CONNECT places great emphasis on data protection. Our messenger is GDPR-compliant and all servers are located in Germany. If desired, we can also provide your own hosting as an interesting alternative option. Speaking of wishes: Design our instant messenger according to your personal design ideas.
Enable your employees to solve problems quickly, easily and cost-effectively without having to sacrifice high-quality data protection. Promote the positive aspect of service technicians, experts and customers exchanging information with each other – supplement your video support with the Instant Messenger for Industry.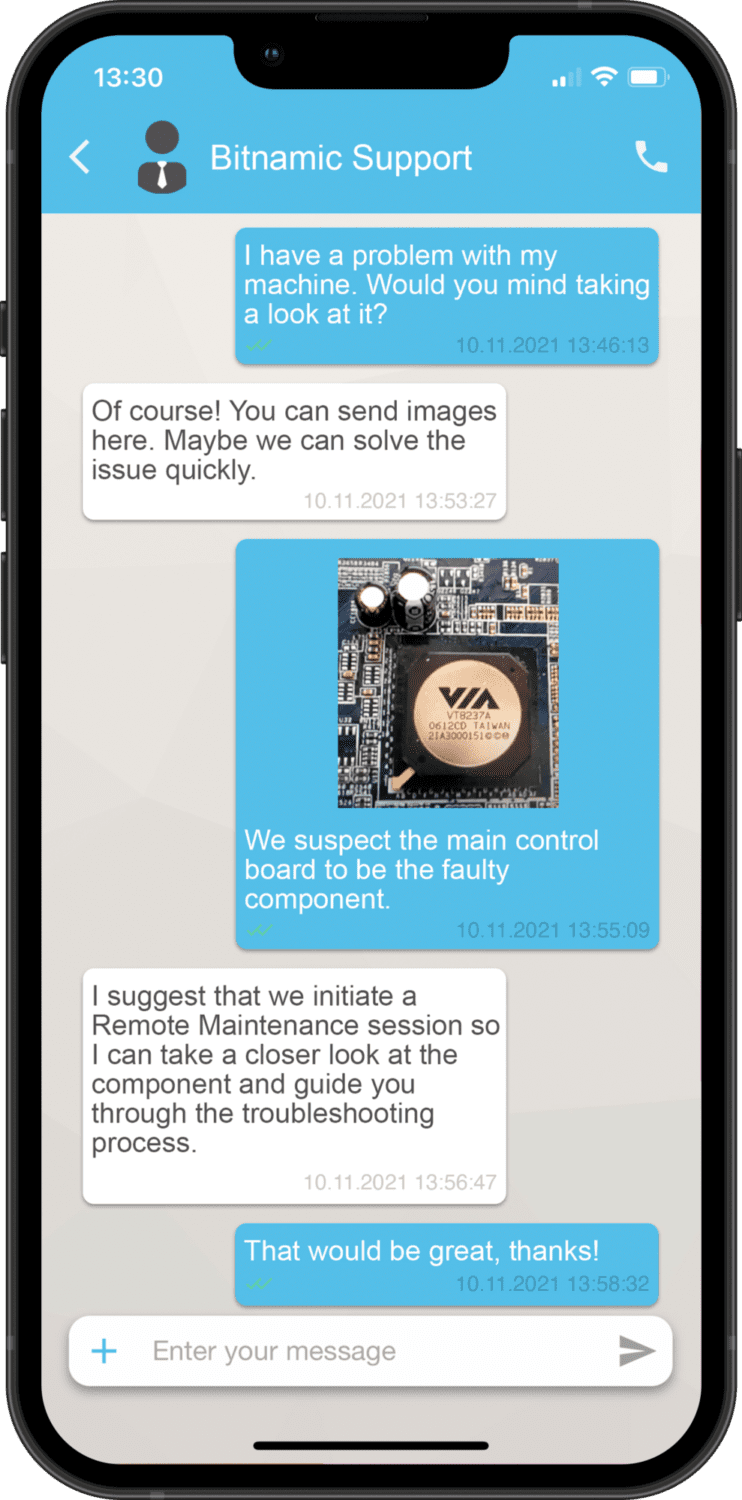 The most important advantages of the Instant Messenger for Industry at a glance

Easy to use
Intuitive use of functions you know already from conventional instant messengers.

Quick exchange
Fast exchange of news and media even before the video call.

Popular features
Popular features like asynchronous message transfer, group chats, push notifications or status information.

Server location Germany
The security of your data is a key concern for us, which is why our SaaS systems are hosted in Germany. Your customer data is therefore subject to German data protection laws.

DSGVO compliant
Don't worry about data protection – our instant messenger complies with the GDPR.

Own branding possible
Design the instant messenger in your own corporate design.
Arrange a demo appointment
We present you our Instant Messenger for Industry live